Stationary travel trailers are typically parked permanently in one spot and used as full-time or part-time residences. Insuring your travel trailer can get tricky since a typical homeowner or auto policy doesn't provide comprehensive coverage for your trailer. This blog will cover your stationary travel trailer insurance options and whether or not it's a necessary investment.
At Alliance Insurance of the Rockies, we work with Colorado homeowners, renters, and full-time RV-ers to help protect their most valuable assets. As an insurance broker in Colorado Springs, we have access to various plans from the best insurance providers nationwide. Working with a reputable insurance broker can help you get the coverage you need at a rate that fits your budget.
Travel Trailer Vs. RV
Travel trailer vs. RV insurance — is there a difference? Typically, insurance providers will classify travel trailer insurance as RV insurance. While coverage options are similar, RVs are subject to different insurance laws since they are motorized vehicles.
With an RV, you must carry liability coverage, just like you would with a car. However, if you own a travel trailer, the liability coverage on your auto policy covers your trailer too. Auto liability coverage ONLY covers costs related to an accident you are at fault for, such as injuries to others, property damage, or legal fees.
Do you want to insure your trailer against theft or damage or want liability coverage if someone gets injured in your parked travel trailer? If so, you'll need a separate policy.
Travel Trailer Insurance Requirements
Travel trailer insurance requirements vary from state to state, so check your local insurance laws.
In most states, coverage for travel trailers is under your auto policy. If the vehicle towing your trailer has adequate coverage, you've met the legal requirement. In Colorado, the minimum liability coverage for an auto policy is $25,000 per person and $50,000 per accident.
So essentially, there are no insurance requirements for your stationery travel trailer. Did you finance your travel trailer? Your lender can require you to purchase a comprehensive policy to protect their investment.
Do I Need Insurance for a Travel Trailer?
Travel trailer insurance isn't a requirement by law, but it's still an excellent way to protect your investment, especially if you live in your trailer for at least part of the year. Like homeowners insurance, travel trailer insurance covers the cost to repair or replace your trailer if damage occurs during a covered event, such as a fire or flood.
You can also purchase coverage for the contents of your trailer, which is especially important for full-timers who bring most of their belongings. If you can't comfortably afford to replace your trailer and its contents with what's in your bank account, you should purchase travel trailer insurance.
What Does Travel Trailer Insurance Cover?
Stationary travel trailer insurance typically covers the following:
Collision coverage in case of damage in an accident
Comprehensive coverage for damages not caused by another vehicle
Liability coverage in case someone is injured while on your property
Medical payments if you or someone else is injured while inside the trailer
Personal effects coverage for items like electronics, tools, and clothing
Emergency expenses, like a hotel room, if your trailer becomes uninhabitable
A qualified insurance broker can help you customize a plan. That way, you only pay for what you need. A stationary travel trailer, for example, won't need collision coverage.
Average Cost of Travel Trailer Insurance
The average cost of travel trailer insurance can vary widely based on how you use your trailer and what coverage you need. Progressive, one of the carriers we work with at Alliance Insurance of the Rockies, states that the average premium for travel trailer insurance is $502 per year.
Full-timers' insurance rates might be higher since you'll want some protections that typically come with a homeowners' policy. However, you can opt out of options like roadside assistance and collision coverage for a stationary travel trailer to reduce your premium. A good insurance broker can help you compare policies from different carriers to ensure you get the best rate.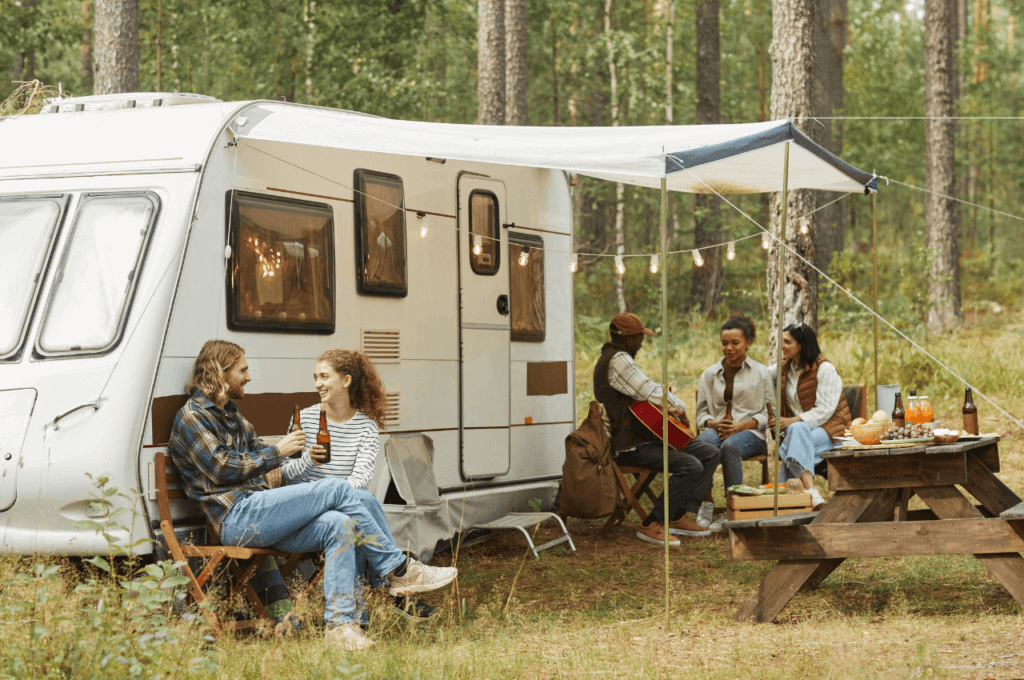 Best Travel Trailer Insurance
At Alliance Insurance of the Rockies, we work with multiple insurance providers to help you find the best travel trailer insurance policy. Some of the reputable companies we work with include:
Progressive
Travelers
Nationwide
Foremost
Safeco
We understand everyone has unique needs when protecting their investment in a stationary travel trailer. That's why we'll always take the time to explain your options and answer any questions you may have about travel trailer insurance.
Travel Trailer Insurance Quotes
If you're in the market for stationary travel trailer insurance in Colorado Springs, contact Alliance Insurance of the Rockies today. Our friendly staff will help you find the perfect policy to fit your needs and ensure your protection on all your adventures. Get a no-obligation travel trailer insurance quote so you can make the best decision for your investment.